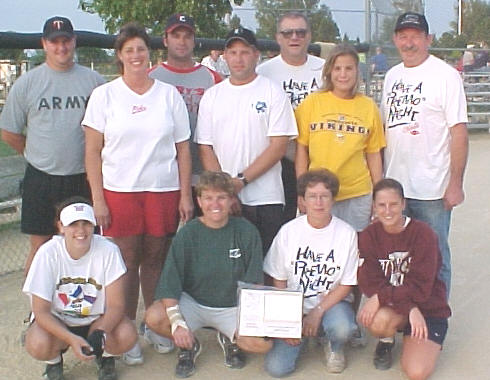 2002 Division III Coed Playoff Runner-ups
Fairmont Legion
Team members include: Bob Altman, Barb Kotewa, Angie Garbers, Ryan Urban, Shiela Verbrugge, Jarud Hoefer, Travis Luetgers, Jenny Kahler, Steve "Buddha" Langford, Julie Leiding, Jessica Larson, Jason Buntjer, Angela Tilbury, Luke Schultz, Kari "Bookkeeper" Sathoff.
			Playoffs Aug 13-14
DIVISION III
Fairmont Legion 7. County Line Contractors 0. 
Exhaust Pros 8, Mel Carlson Chevrolet 3. Nice stretch Tab! Good solid 
   game.
Bevcomm/Legion Post 89 27, County Market 4. Rick & Mitch HRs.
Daddy's Money 13, Total Comfort Systems 3. Fun game by all!
 
			Playoffs Aug 20
DIVISION III 
Mel Carlson Chevrolet  22, County Market 20. Good game! County 
   Market eliminated
County Line Contractors 22, Total Comfort Systems 8. Thanks to the 
   recruits Jeff! Total Comfort Systems eliminated
 
			Playoffs Aug 27 - 28
DIVISION III
Bevcomm/Legion Post 89 14, Exhaust Pros 19. 
Fairmont Legion 16, Daddy's Money 5. Big 1st inning.
Daddy's Money 8, Mel Carlson Chevrolet 7. Jason 2HR park, triple, 
   6 RBIs. Mel Carlson eliminated
County Line Contractors 22, Exhaust Pros 15. Exhaust Pros eliminated
Bevcomm/Legion Post 89 9, Fairmont Legion 6. Nice game everyone, 
   way to stick with it Sonja.
Daddy's Money over County Line Contractors.  County Line Contractors 
   eliminated
Fairmont Legion 9, Daddy's Money 8. Tough game. Daddy's Money 
   eliminated
 
			Playoffs Sept 4
DIVISION III CHAMPIONSHIP GAME – 
Bevcomm/Legion Post 89 11,  Fairmont Legion 10. Great season 
   everyone,  thanks Bevcomm/Legion Post 89 !